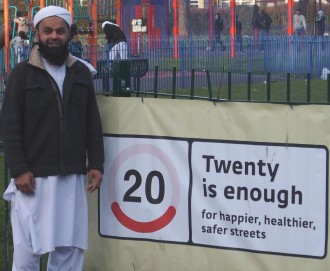 Following consultation, Manchester City Council are implementing new 20mph speed limits on many residential roads in our area. One of the most frequent complaints made by residents in Whalley Range and Chorlton is about cars that are driven too fast on our streets. Visiting and speaking to people recently on roads such as York Avenue, Brantingham Road, Alexandra Road South, Sylvan Avenue, St Werburgh's Road, Daventry Road and many others, the story is the same. Some of those streets already have 20mph speed limits if they are close to our schools; some have traffic calming measures as well.
So will a new limit of 20mph covering most residential streets make any difference? Councillor Aftab Razaq thinks it will. He says "Many of the cars speeding in our area are driven by local people who ought to know better. If they keep to the new speed limit then other drivers who are passing through our area will be more likely to drive slower as well. That is why our Labour team will be campaigning for local people to pledge to keep to the new limit and ensuring that we have enough signs and posters that keep the message clear." Everyone wants and needs safer streets – let's get the message out there. 20mph is enough!
More information can be found on the Council's website at manchester.gov.uk/20mph. A full list of streets affected is as follows:
Abbotside Close, Alness Road, Arcon Drive, Badminton Road, Brantingham Road from Withington Road to Spring Bridge Road, Broadmeadow Avenue, Chandos Rd, Chandos Road South, Chatburn Rd, Dalmorton Rd, Daventry Rd, Deerpark Rd, Demesne Rd, Denis Av., Egerton Rd South, Ellesmere Rd, Ellesmere Road South, Gowan Rd, Hilden Court, Holden Av., Kildare Road, Kings Rd, Lambton Rd, Manley Road from Withington Road to Spring Bridge Road, Mayfield Rd, Montcliffe Crescent, Morville Road from Wilbraham Road to Brantingham Road, Moss Grange Av., Oakfield Av., Range Rd, Spring Bridge Rd, St Brannock's Rd, St Werburgh's Road from a point 100 metres north of Caddington Road to Brantingham Road, Stoneyfield Cl., Vaughan Rd, Wellington Rd, White Moss Av., Whitehorn Av., Withington Rd, Woodacre, Woodgate Rd, Wyverne Rd.