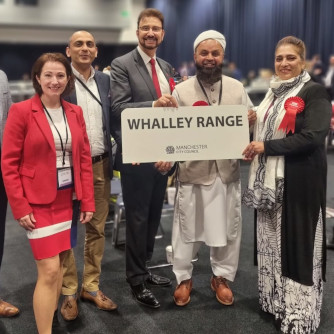 The Labour Party candidate Aftab Razaq has won another four year term as one of three Manchester City Councillors representing the ward of Whalley Range. The full result of the election (on a turnout of 30%) was:
| | | |
| --- | --- | --- |
| MCGUINESS, Andrew | Liberal Democrat Party | 174 |
| POTTER, Laura | Green Party | 721 |
| RAZAQ, Aftab | Labour Party | 2,318 |
| SHAHID, M Omar | Conservative Party | 173 |
Aftab says "It has been a great honour to serve the residents of Whalley Range for the last eleven years, and thanks to the help of many friends and supporters, it is a privilege to have been chosen as councillor for another term. My colleagues Angeliki and Bano and I work as a team for the whole community. We do not take anyone for granted. We work hard, but we know that problems still arise, and there is always more that we can do. Please contact me or my fellow Councillors if there is anything you would like to discuss with us".