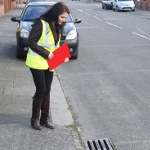 The recent storms and heavy rainfall in northern England have continued to cause problems, and the local roads and drains are no exception. Whalley Range councillor Angeliki Stogia has been putting pressure on the Council's Highways department to do more to resolve longstanding problems (such as blocked and damaged drains flooding the cycleways on Upper Chorlton Road) and to shorten the time taken to deal with smaller problems raised by residents, such as leaves blocking road gulleys.
She says "Everyone knows that the Council has had to absorb huge budget cuts from central government, but we still need to get these problems sorted. The good news is that, as part of the windfall from the City's share in Manchester Airport, there should be more help to deal with drainage problems in the coming year, with £1m of extra funds earmarked for drain repairs". You can listen below to Councillor Stogia's latest questions and the responses given in the Council meeting held on 20 January.
If there's a problem on your own street, you can raise it directly on the Manchester City Council website – just follow this link and complete the form. If you have problems using this form or have more questions, please get in touch with one of the Councillors.