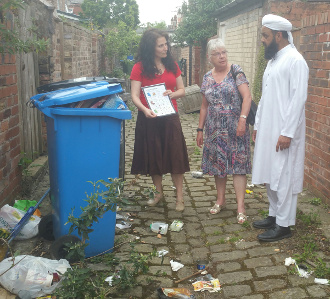 The Whalley Range Labour team are out every week talking to local residents about the issues that concern them. One of the most frequent problems raised on the doorstep is littering and flytipping, especially in the alleyways around Cromwell Avenue and Clarendon Road.
Whalley Rangers have launched a new Flytipping Watch campaign, with the full support of the City Council and the Biffa Waste Collection team. It will get underway on Bury Avenue on Friday 3rd February followed by York and Cromwell Avenues and Milton Grove.
The councillor team of Mary Watson, Aftab Razaq and Angeliki Stogia (seen here in one of the affected alleyways) strongly support this campaign, and say "If everybody does their bit then we can make a real difference to this problem. We'll be writing to local residents to keep them informed, and posting updates on this website".