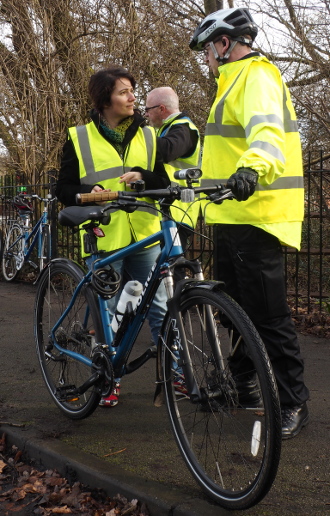 Greater Manchester Police, along with other police authorities around the country, want to raise awareness of the dangers of 'close passing' – when motorists overtake cyclists dangerously without keeping a safe distance.
GMP invited Whalley Range councillor Angeliki Stogia along to the launch exercise of the GMP Pedal Cycle Close Pass Initiative this morning. Plain clothes officers rode special bikes equipped with movie cameras, and motorists who failed to give safe clearance were pulled over and offered on-the-spot education on how to pass cyclists safely. Those who refused or had committed an offence were reported and may face a day at the courts. Drivers without insurance or using their phones while driving were also pulled in.
Angeliki, seen here talking to one of the officers assisting the operation, says "I strongly support this police initiative. I would like to cycle more, but I worry about the dangers. And as a regular driver, I know I need to be extra careful when overtaking cyclists." Inspector Paul Rowe from GMP's Collision Investigation unit added this message for motorists: "The next cyclist you overtake could be a police officer. Operation Considerate highlights the need for all road users to be considerate to each other, it is vital that cyclists are offered the same rights and protection as any other road user."
Cycling instructors from Transport for Greater Manchester were also present, to promote their free training schemes for adult cyclists – see here for more details. To keep up-to-date with this initiative follow @OfficialTfGM @DriveSafeGM @GMcycling. Hashtags to be used are #ClosePass and #OpConsiderate.