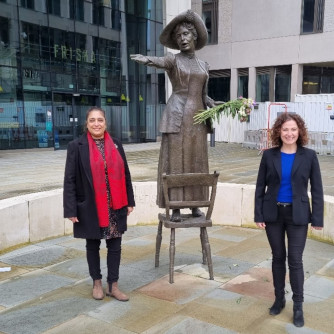 Across the world on 8 March every year for over a century, women have come together to both celebrate and push forward the struggle for gender parity.
Inevitably, due to the pandemic the nature of the occasion had to change this year. Labour candidate Muqaddasah Bano and Councillor Angeliki Stogia decided to meet by the statue of Emmeline Pankhurst in St Peter's Square, Manchester to mark the day together.
Bano, who will be standing for Whalley Range in the election on 6 May, says "I pass this statue on my way to work in the city centre. It's called Rise Up Women and I think it is very inspirational. I have campaigned for many years on the issue of domestic violence, and gender equality is very important to me. I would like to show solidarity with women everywhere on International Women's Day".