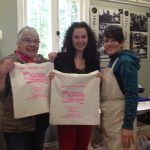 On 18 November, Whalley Range councillor Mary Watson introduced a motion in the City Council to formally adopt the Older People's Charter in our city. It has been drafted by the Age-Friendly Manchester board which includes representatives from Whalley Range and Chorlton.
Mary – seen here with fellow Whalley Range councillor Angeliki Stogia at an 'age friendly' screen printing workshop at the Alexandra Park birthday events last year – says "We are now working out how to make the Charter a reality here in our area, joining with neighbouring communities in Chorlton and Chorlton Park. We've made a good start with the work done to make the restoration of Alexandra Park age-friendly and Alexandra Arts is continuing that work with its programme of Pankhurst in the Park events."
For more information about the Charter, please see the Council website, or to contact Age-friendly Whalley Range call 0161 881 3744.