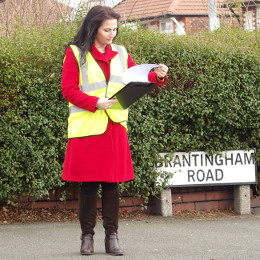 Speeding cars and anti-social driving continue to be a problem on some streets in Whalley Range and Chorlton. Councillor Angeliki Stogia has been talking to local community organisations about setting up a Community Speedwatch scheme. This is a new initiative where active members of the community join together with the support of the police to monitor the speed of vehicles using detection devices.
Angeliki says "We have a number of people already interested, but we're keen to hear from more of you who want to help tackle this problem and take a stand against inconsiderate drivers in our neighbourhood."
What is the Community Speedwatch scheme?
Volunteers receive appropriate training, and are supported by neighbourhood policing team (NPT) staff. The scheme aims to cater for the problem of real or perceived speed related offending, and through partnership with the community it is to be used in circumstances that are necessary, justifiable and proportionate in order to:
Improve the quality of life for Whalley Range and Chorlton communities
Increase public awareness of inappropriate speed
Reduce the speed of vehicles to the speed limit
Reduce the risk of injury on the roads
Speed Watch activity is not about interfering with neighbours' behaviour; it is a proactive solution to improve the safety and quality of life for everyone in the community.
Who do I contact to join the scheme?
What is the timescale for setting up the scheme?
Depending on the level of interest, the organisers are hoping to make the application and get training underway before the end of March.