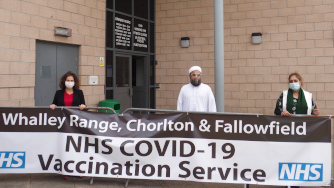 As previously reported, Whalley Range is fortunate to have two local pharmacies providing Covid-19 vaccination service right here in our ward. Anyone who has received an NHS letter or a message from their GP to say that they are now eligible for the vaccine, can make an appointment at one of these local centres – it's not necessary to travel across the city to another venue. As the age threshold has lowered, both centres have been very busy, but plenty of appointments are still available.
The centre operated by Kapoor Pharmacy Services has recently relocated from Whalley Range Cricket Club to the sports centre adjacent to Whalley Range High School, accessed from Wilbraham Road. For more details, see the pharmacy's Facebook page.
Everest Pharmacy continue to provide their vaccination service from their base on Withington Road.