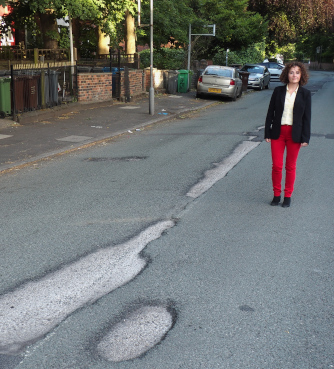 The surface of Withington Road between Manley Road and the old Whalley pub has been in poor condition for some time, with a number of potholes making things difficult for drivers and creating dangers for cyclists. But as part of the £100m highways investment programme by the City Council, this section of the road is now going to be fully resurfaced, with work starting on Thursday 4 June.
Cllr Angeliki Stogia says "Aftab, Mary and I know that local residents have had concerns about the condition of this road, and we've been pushing for this work to be prioritised. We're really pleased that it will soon be underway."
This project is planned to be carried out in two phases, which will involve partial closures of Withington Rd with signed diversions in place. From 4th to 12th June, Withington Road will be closed to through traffic between Yarburgh St and the junction with Moss Lane West / Upper Chorlton Rd, then from 13th to 21st June it will be closed betwen Yarburgh St and Manley Rd (though these dates may be subject to unforeseen delays). Side roads will be closed at their junctions with Withington Rd. Local residents who have questions or concerns about the work can contact the team by email at plannedmaintenance@manchester.gov.uk or phoning 0161 234 1970.