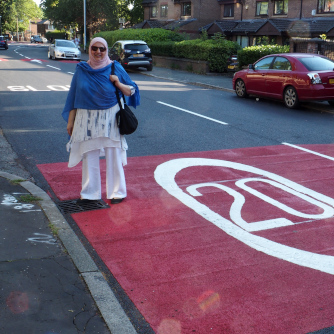 Contractors working for the City Council have successfully completed the resurfacing work to Withington Road (between Brooks Bar and Manley Road).
Assia Shah (Whalley Range Labour candidate in the next local election, to be held in May 2021) has taken a look at the finished work. "Aftab, Angeliki and Mary have been pushing to get this work done – it's great that it's now complete" she said. "Pot holes and damaged road surfaces are bad for vehicles but also can be dangerous for cyclists as well."
The work has been carried out as part of the ongoing £100m investment programme of repair and maintenance of Manchester's roads and pavements.