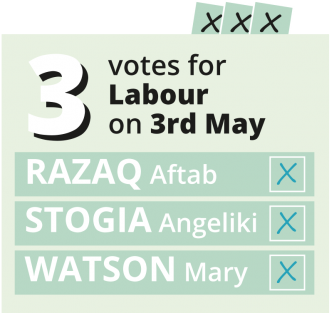 Thursday is polling day across Manchester, where because of the ward boundary changes all the council seats are up for election.
This means you have three votes instead of the usual one – use them to re-elect your Labour councillors, Aftab Razaq, Angeliki Stogia and Mary Watson. Five things to remember:
You don't need your polling card to vote – just go to your polling station and give them your name and address

Polls are open from 7am to 10pm – if you're going to be busy late on, why not vote first thing?
If you've got a postal vote, but haven't sent it back yet, you can take it to any polling station before 10pm
If you don't know where your polling station is you can find it here, or call us on 0161 860 5523
If you need a lift to vote, call the Whalley Range Labour team on 0161 860 5523.