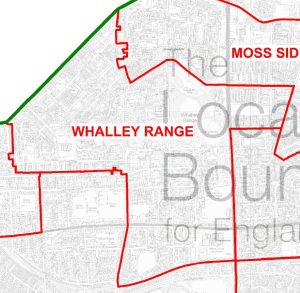 30/10/2017 update: For more recent information about the boundary changes, see this post
The Local Government Boundary Commission for England (LGBCE) are currently reviewing all the ward boundaries for the Manchester City Council district (this is completely separate from the national review of parliamentary constituencies which is also ongoing). LGBCE have today published their draft proposals, which include very significant changes for Whalley Range. If these proposals are approved, the part of the ward south from Manley Road and west of Withington Road will be integrated with Chorlton and Chorlton Park wards, while areas in the current Moss Side and Fallowfield wards will join the remaining part of Whalley Range.
There is now a public consultation on these draft recommendations which lasts until 23 January 2017, and the final recommendations will follow on 11 April. The proposal documents (including maps) can all be found on the LGBCE website here. After that date, all the affected branch Labour Parties in Manchester (including Whalley Range, obviously) will need to go through a process of reorganisation to reflect the new boundaries, followed by an 'all-out' election in May 2018. More detailed information on all of this will follow when we have it.